Water Chiller
Product Features
1. The water chiller is easily paired with the spiral mixer, especially in warm weather to chill water. This prevents destroying the physical and chemical properties of the dough.
2. Automatic water removal and acquisition.
3. Cyclic water controlling system ensures quick water chilling.
4. The compressor is saved with cycling fans and a high efficiency in the air cooled condensers.
5. We offer a guaranteed cooling capacity at rated levels.
Product Parameter
| | | |
| --- | --- | --- |
| Model | FX-100L | FX-200L |
| VOL | 220V | 220V |
| Frequency | 50hz | 50hz |
| Power | 1.3KW | 2.2KW |
| Capacity | 100L | 200L |
| Freon condensing | R22R/134A | R22R/134A |
| chilling time(+3℃) | 80min | 80min |
| chilling time(+5℃) | 60min | 60min |
| Exterior Dimension(mm) | 700*700*1640 | 1000*800*1640 |
Product detail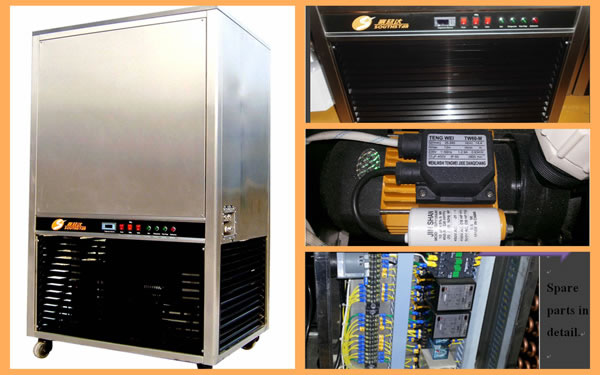 Packing & Shipping