NFC Series Convection Oven
I. Product Parameters
Model
Name
Voltage
Power
Overall Dimension
Size of
the Tray
NFC-3D
3-tray electric convection oven
380/50Hz
6Kw
865×1250×545mm
400×600mm
NFC-5D
5-tray electric convection oven
380/50Hz
9Kw
900×1250×770mm
400×600mm
NFC-8D
8-tray electric convection oven
380/50Hz
16Kw
900×1250×1120mm
400×600mm
NFC-10D
10-tray electric convection oven
380/50Hz
16Kw
900×1250×1120mm
400×600mm
NFC-12D
12-tray electric convection oven
380/50Hz
23.5Kw
1500×1000×1830mm
400×600mm
NFC-5Q
5-tray gas convection oven
380/50Hz
0.55Kw
900×1250×945mm
400×600mm
NFC-8Q
8-tray gas convection oven
380/50Hz
0.8Kw
900×1250×1305mm
400×600mm
NFC-10Q
10-tray gas convection oven
380/50Hz
0.8Kw
900×1250×1305mm
400×600mm
NFC-12Q
12-tray gas convection oven
380/50Hz
1.3Kw
1530×1000×1845mm
400×600mm
NFC-4WD
4trays electric convection oven
220/50Hz
2.5 kw
700x730x510mm
450x350mm
NFC-4WDI
4trays electric convection oven(computer panel controller)
220/50Hz
2.5 kw
700x730x510mm
450x350mm
WPO-4AC
4trays electric convection oven
220/50Hz
2.5 kw
600x530x570mm
450x350mm
NFC-4WD
4 trays electric convection oven
220/50Hz
2.5 kw
700x730x510mm
450x350mm
NFC-4WDI
4 trays electric convection oven (computer panel controller)
220/50Hz
2.5 kw
700x730x510mm
450x350mm
WPO-4AC
4 trays electric convection oven
220/50Hz
2.5 kw
600x530x570mm
450x350mm
II. Product Details
A. The operating system of the NFC series convection oven is designed with microcomputer processor that has good anti-interference performance. Therefore, the product has good reliability. The temperature can be accurately controlled through the self-correcting device and PID controller. Additionally, it is very convenient to store the data and set up the operation of the machine. The controlling range of the temperature is selectable, including 0℃ to 300℃ and 0℃ to400℃.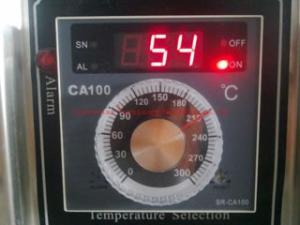 B. The intelligent and accurate monitoring will help you to control the baking condition of the food easily.
1. From the failure warning device for power supply, air blower and the lighting, you can get information about the operating conditions of the convection oven clearly.
2. The product is designed with steam timer and baking timer. Therefore, it is very easy for you to set up the baking conditions.
3. The steam can be sprayed flexibly. Additionally, the frequency of steam spraying is adjustable.
C. The product is designed to operate with constant pressure. If the induction system detects excessive pressure, the machine will automatically decompress.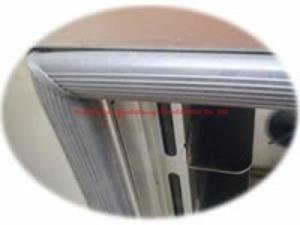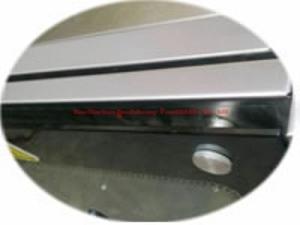 1. The excellent design of the product will effectively prevent the machine from air leakage.
2. The double glass we use is tempered glass. Besides the safety and the nice appearance, it is very easy for you to disassemble the glass for cleaning.
D. Inner chamber of the product
The NFC series convection oven is delicately designed with beautiful appearance and reasonable interior and exterior structures. With the good practicability, it is very convenient for you to operate the machine.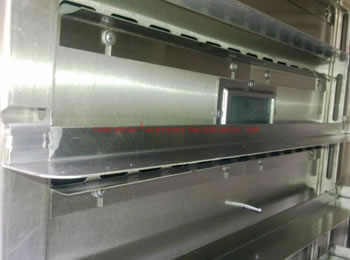 The space between the tray racks is 100mm. The tray racks can be easily disassembled and assembled. Both the inside and outside of the oven chamber are produced with #201 stainless steel, which is better than the material specified in the International Food Safety Standard.
There are several heat dissipation systems at the sides and back of the convection oven. So the heat dissipation is faster and more sufficient. Accordingly, the service life of the product is extended.
IV. Operation Display
V. Package
1. Slightly put the product on a piece of board and fix it.
2. The cardboard shall be used to package the product for moisture proof.
3. Finally, the product shall be packed with plywood and batten. Markings shall be affixed on four sides of the package.