Automatic Bread Production Line
Tunnel Oven
The tunnel oven is the baking area of the automatic bread production line. It is also the core of this production line.
Applications
This tunnel oven is suitable for baking all kinds of bread and desserts such as mooncake, toast, dinner roll, Russian hamburger, short cake, egg pie and biscuit, etc. It can also be used to barbecue meat like chicken, duck, beef and mutton in large amount. Forming an automatic production line combined with other equipment, this tunnel oven can bake a large amount of food at a time. Therefore, it saves time and efforts. The baked foods are consistent in color and luster, and have a good taste.
Features
1. Our tunnel oven has a particular heating platform which can guarantee the baking temperature of the oven is uniform. The adjustable vent can meet various baking requirewments for different products in different seasons.
2. Our product is equipped with an air draft device to absorb the heat or smoke. Thus it will help keep the working environment clean.
3. The conveyor chain of our product is noiseless, self-lubricating, and good in quality. It has a long service life and can work stably.
4. The body of the tunnel oven has two layers of thermal insulations with air isolated layers. Thus thermal loss is low. The heat insulation cotton is properly sealed and will not expose.
5. The inner chamber of our product is made of imported aluminum plate which is in accordance with the national standard for food machinery. The aluminum plate is clean and is sensitive in heating reactions. The frame of the oven is made of high quality internal sectional materials, and is resistant to deformation and compression.
6. With an outer shell made of stainless steel, our product has an elegant appearance. Compared with deck oven with a same production capacity, our tunnel oven is more space-saving, energy-saving and labor-saving.
Turning Conveyor
The turning conveyor is fully made of stainless steel. It has an automatic rising-lowering system and can automatically convey the ovenware to the tunnel oven through the conveyer device. You can adjust the conveying speed according to the practical need. With a turning function, the turning conveyor can work in flexibility and help save the plant space. We can made customerised turning conveyor belt according to the area of your plant.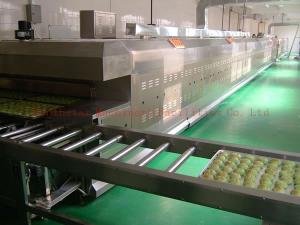 Cooling Column
In the cooling stage for the baked bread, the ovenware filled with bread will be sent into the cooling column to make the bread cooled. The cooling column has a chain track which can move up and down. You can adjust the cooling time and the moving speed of the chain track through the computerized control panel. Customized cooling column in particular size in accordanc with the customer's requirements is availiable.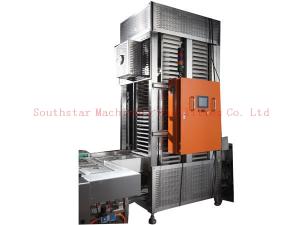 Packaging Machine
We offer appropriate packaging machine according to the shape and weight of the product you bake.